Powerwolf | Preachers of the Night
by Justin Gaines
– Senior Columnist/News Editor —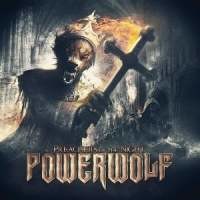 German power metal band Powerwolf is back with a new album, their fifth, titled Preachers of the Night. The band's previous album – 2011's excellent Blood of the Saints – was a major breakthrough for Powerwolf, and with Preachers of the Night, which debuted at #1 on the German charts, the band is poised to join the "top tier" of the power metal genre.
For those not familiar with Powerwolf's sound, think Sabaton, only with a fixation on werewolves and the devil instead of battles and tanks. This is extremely melodic power metal with real (pardon the pun) teeth. It's got the kind of heaviness that a lot of power metal bands lack. There's also a real intensity and energy that you don't always get with the average Dungeons & Dragons-obsessed European band.
Powerwolf isn't reinventing the wheel here. They take the same basic approach they used on Blood of the Saints on Preachers of the Night, and it's hard to argue with the results. Your head starts banging when the first single – "Amen & Attack" – kicks in and before each song is done you're already singing along with each chorus. The symphonic elements seem amped up a bit here, and the band is playing up the "dark preacher" aspect with both imagery as well as the Latin titles. It's completely cheesy as usual, and completely fun. It's just not possible to resist this combination of melody, speed, power and energy.
While Preachers of the Night is arguably a step down from Blood of the Saints, it's still an extremely infectious, extremely enjoyable offering from one of the most exciting bands in power metal. Long time Powerwolf fans will not be disappointed in the least, and it makes a great introduction to the band for newcomers. Assuming you can handle the cheesy, pseudo-Satanic lyrics, Preachers of the Night is recommended to just about any power metal fan, but especially fans of Sabaton. It's one of the best power metal albums 2013 has to offer, and is probably a top 10 album overall this year.
Edition Notes: The deluxe edition of Preachers of the Night comes in a sturdy digibook package with a bonus 4-song CD titled The Sacrilege Symphony II. The bonus tracks are symphonic versions of four of the songs on Preachers of the Night. And by symphonic they mean the songs are played by a symphony – without the band. It's an interesting addition just to hear that layer of the music isolated like this, but honestly it's nothing you'd need to hear more than once.
Genre: Power Metal
Band:
Charles Greywolf (b) (g)
Matthew Greywolf (g)
Falk Maria Schlegel (k)
Attila Dorn (v)
Roel van Helden (d)
Track Listing:
Disc 1
1. Amen & Attack
2. Secrets of the Sacristy
3. Coleus Sanctus
4. Sacred & Wild
5. Kreuzfeuer
6. Cardinal Sin
7. In the Name of God (Deus Vult)
8. Nochnoi Dozor
9. Lust for Blood
10. Extatum et Oratum
11. Last of the Living Dead
Disc 2
1. Amen & Attack
2. Coleus Sanctus
3. Kreuzfeuer
4. Cardinal Sin
Label: Napalm Records
Website: www.powerwolf.net
Hardrock Haven rating: 9/10