Jose Urquiza of 3 Years Hollow
by Derric Miller
– Managing Editor —
3 Years Hollow vocalist Jose Urquiza checked in with Hardrock Haven talk about their new album The Cracks; the current tour with Saving Abel; working with Clint Lowery in the studio for the new release; their special hometown show in Moline, Ill Feb. 8; getting a #1 hit on Octane; and a whole lot more.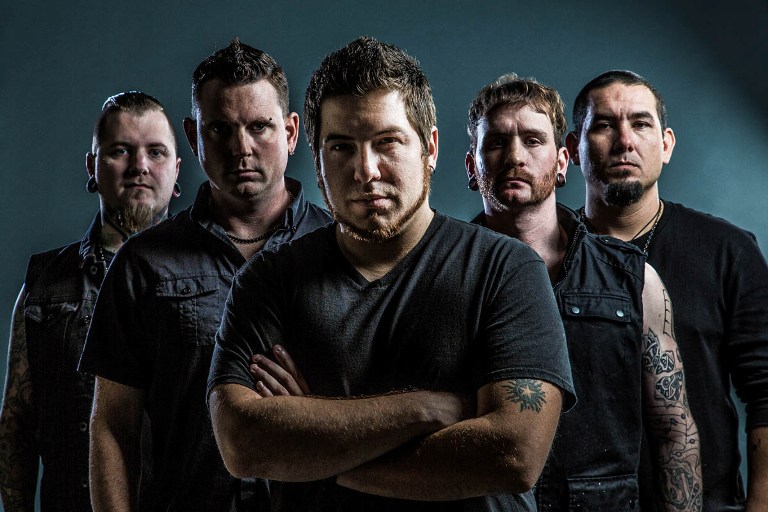 HRH: Jose, thanks for checking in with Hardrock Haven—much appreciated. To start with, for those who are not familiar with the band, can you give us just a quick summary of what 3 Years Hollow is all about?
Jose: Basically, Tony and myself have been playing music together for about 12 years. Chris and Dex have been playing together for probably around the same time. We came together about six years ago to try to do something big and we've been playing shows and writing songs ever since. We self-released a full length album in 2007, and then a six-song EP in 2012 which basically led to our record contract with Imagen Records.
HRH: The band's new album, The Cracks, dropped Feb. 11 and the first single is "For Life," which features Clint Lowery of Sevendust fame. Lowery also produced the new album. How did he influence the direction the band went on The Cracks?
Jose: The record is unique because some of the songs are from our self-released EP. Once we signed our deal we went into the studio with Clint to finish the record. You can definitely hear an evolution of our sound if you're familiar with which ones came first. He was able to work with each of us individually to bring out our best performances for the song. It was cool for me to leave the room and come back and hear something evolved. He definitely showed us first hand how talented of a songwriter he is as well.
HRH: The Cracks is a killer and complete album; for the readers, here's what staffer Mark Allen had to say about it: http://hardrockhaven.net/online/2014/02/3-years-hollow-the-cracks-cd-review/. I personally think that review nails it, because when Allen wrote "If you're hoping for pop-infused commercialism like Nickelback or Hinder, run away … 3 Years Hollow is of a heavier vein." While the melody is omnipresent, this is a HEAVY album. Have the other reviews coming in mirrored that comment; do they "get it" as well?
Jose: Yeah most of them really do. We can't thank Mark enough for that review. That type of feedback keeps us inspired on a daily basis as well. I've been blown away by most of the reviews of the album. It's cool to see people's honest feedback on something we've been working on for almost three years.
HRH: The title track is one of my favorites on the new release. "The Cracks" is one of those songs I hear and wonder "When is he going to start yelling? Don't you know you have to YELL to be a modern rock singer? What doesn't Jose get?" Yes, that's sarcasm; you sing, and it's almost NEW sounding because … you CAN sing. (You can also bring it heavier, like on "Fallen" when it makes sense.)
Jose: Thank you so much. I honestly appreciate that. I've slowly gotten more comfortable just being me and doing whatever comes natural to me. As a young vocalist my influences could really be heard in my vocal tone, but I've slowly become more comfortable and it's really opened me up. I'm looking forward to the next record and the next record after that to really explore some more. I think the reason I sound the way I do is simply because of who my influences were. Lajon's voice is amazing, Maynard from Tool, Brandon Boy of Incubus, all huge influences of mine that have unique and amazing voices.
HRH: Speaking of singing, who are your biggest influences as a singer. Also, who are your contemporaries that you listen to and think "damn, I'm going to keep climbing and keep up with them."
Jose: Lajon Witherspoon, Maynard James Keenan, Brandon Boyd, and David Draiman were my biggest influences in the rock/metal world.
HRH: Any plans for a video for "For Life?" Also, how important do you think it is to have a video component to how the band markets itself? Is getting a bunch of YouTube views helping spread the word in a measurable amount, to you?
Jose: I'm not sure on video plans. Right now we're pushing the first single "Hungry" and we just got done with a video for that. Once that cycle ends we'll choose a second single and we're all very excited to pick that. We know there are some very strong favorites on the record including "Chemical Ride," "Taken By All," and "The Devil's Slave."
HRH: Speaking of getting the word out, 3 Years Hollow had a #1 hit on Sirius XM Octane with "Remember." That's a pretty big deal. What was it like having a #1 hit on Octane?
Jose: We debuted at #1 basically. Octane really pushed us when the single was released and we spent I think the first three weeks at #1. It was a HUGE motivation for us to get on the road and tour and that's ultimately when we decided to quit our jobs and make this full time. That was January of 2013.
HRH: Looks like the band is touring all through February with Saving Abel. How is the tour going thus far? Any drinking contests or something stupid you can share with us?
Jose: The tour is going great. Many sold out shows and the crowds are really loving the whole tour package. Haha, no crazy stories yet. I spend most of my time resting on the bus or selling merch. Staying pretty focused out here.
HRH: The band played a special hometown performance Feb. 8 in Moline, Ill., the only show this tour you didn't play with Saving Abel. Can you give us some highlights of playing in your home town, how the night went?
Jose: The release show was amazing. It really showed us how we got here, and that is from the support of our hometown. They slowly pushed us out further and further and when we go home we can have record crowds in the clubs we've been playing for so long. It's an amazing feeling. I know the Quad Cities are rooting for us and they definitely show it.
HRH: Thanks for your time, best of luck on tour and with the new release! Is there anything I left out that you'd like to leave with our Hardrock Haven faithful?
Jose: I don't think so. We're going to be touring as much as possible to play for everyone who has ever supported us. We can't wait to meet you all.
For More Information on 3 Years Hollow: www.threeyearshollow.com
Buy the album online: https://itunes.apple.com/us/album/the-cracks/id791710936