Ronnie James Dio: This Is Your Life
by Justin Gaines
– Senior Columnist/News Editor —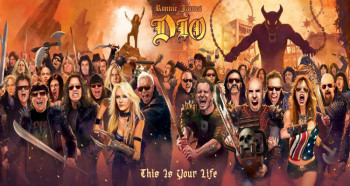 Over the years there have been a handful of Dio tribute albums, but it's always fun to hear new ones. Between the late, great heavy metal icon's work with Black Sabbath, Rainbow and his solo band, there are so many great and influential songs that can be interpreted in powerful and surprising ways.
Rhino's new Dio tribute album, titled Ronnie James Dio: This Is Your Life, is the one officially endorsed by Dio's estate, and aims to be the definitive Dio tribute. With a list of performers that includes legends like Metallica, Anthrax, Scorpions, Motorhead, Doro, Rob Halford Glenn Hughes and Biff Byford, up and coming acts like Halestorm, Adrenaline Mob and Killswitch Engage, and members of Dio's own band, it almost has to be. Some of these recordings are new, and some have appeared elsewhere, but hearing them all in one place is a real treat. This really does seem like a respectful (but still fun) look back at Dio's life and career.
There are no real duds here, and there's something to like about all of these covers. Hearing Russell Allen belt out "The Mob Rules," Motorhead with Biff Byford taking on "Starstruck" and even Metallica's Rainbow medley are highlights, and even though it's nearly 15 years old, Doro's version of "Egypt" still gives listeners the chills. The whole thing works brilliantly, and if there's a complaint it's that there is only one CD worth of songs here. Another dozen or so songs would have been perfect. Beyond the music this release boasts a killer cover painting and a booklet that's loaded with rare photos and the artists' remembrances of Dio.
If you're a Dio fan at all, or just enjoy classic heavy metal, Ronnie James Dio: This Is Your Life is a mandatory purchase. And with all proceeds going to the Ronnie James Dio Stand Up and Shout Cancer Fund, it's a purchase you can feel good about. Turn it up, raise the horns and celebrate the incomparable legacy that Ronnie James Dio left behind.
Genre: Heavy Metal
Track Listing:
Anthrax: Neon Nights
Tenacious D: The Last in Line
Adrenaline Mob: The Mob Rules
Corey Taylor, Jason Christopher, Christian Martucci, Roy Mayorga, Satchel: Rainbow in the Dark
Halestorm: Straight Through the Heart
Motorhead with Biff Byford: Starstruck
Scorpions: The Temple of the King
Doro: Egypt (The Chains are On)
Killswitch Engage: Holy Diver
Glenn Hughes, Craig Goldy, Rudy Sarzo, Scott Warren, Simon Wright: Catch the Rainbow
Oni Logan, Jimmy Bain, Rowan Robertson, Brian Tichy: I
Rob Halford, Doug Aldrich, Vinny Appice, Jeff Pilson, Scott Warren: Man on the Silver Mountain
Metallica: Ronnie Rising Medley (A Light in the Black, Tarot Woman, Stargazer, Kill the King)
Dio: This Is Your Life
Label: Rhino
Website: www.diocancerfund.com
Hardrock Haven Rating: 9/10