by Matt Karpe
– Senior Columnist —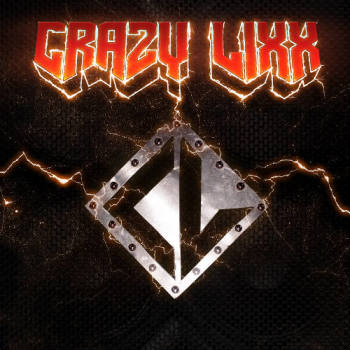 Swedish quintet Crazy Lixx have followed up 2012 release Riot Avenue with another record full of 80's influenced glam tinged metal.
Along with fellow countrymen Crashdiet and Finns Reckless Love, the popular sub-genre of the past continues to make a steady revival and there are no signs of it going away quietly.
Lixx's self-titled fourth opus starts with the rousing "Hell Raising Women" which has that classic 80s' feel. The sleazy guitar riffs and hard drumming take control early on before a catchy chorus dominates with the use of the bands traditional group vocals.
"Sound Of the Loud Minority" is a little nod in the direction of Def Leppard, and with a more controlled pace it is a song that fits perfectly into the stadium rock category.
"Outlaw" is a brilliant highlight, with a delicious chorus of lyrical balladry that still packs a raucous punch. Once again, backing vocals help to make the song a success and it is a great song to listen to whilst downing your third or fourth JD.
"Girls Of the 80s'" is another solid hard rocker but the following few tracks send the record on a slight nosedive.
"I Missed the Mark", "All Looks, No Hooks" and the AC/DC-esque "Aint No Rest In Rock n' Roll" all lack a cutting edge, and whilst the songs are 'decent'; decent is all they are.
"Call To Action" picks things up again and the reworked "Heroes Are Forever", which originally featured on Lixx's debut album hits the heights of "Outlaw". The bass is thumping and the drums are nice and heavy. With some excellent guitar rhythms, it is justified why Crazy Lixx decided to revisit a past haunt.
"Psycho City" has an almost smothering Kiss influence to it, and the second half is brilliant as a mesmerizing guitar solo goes head to head with some of the best drumming throughout.
"Wrecking Ball Crew" is a steady track that brings things to a close, but there is a little discontentment that sets in when you think about what you have just heard.
There are some great moments on Crazy Lixx, but it's let down by a middle trio that seems to be played safe rather than taking the 'balls out' approach that some contemporaries may have risked.
Other positives include the huge production and the songs will no doubt sound great when played live in arenas around the world. Also, the use of backing vocals on virtually every song is something that invariably works, and Crazy Lixx are one of the few bands that pull it off nearly every time.
Crazy Lixx have the capability of becoming huge, and this record should help them get to where they want to be. If that is to happen however, then Crashdiet and Reckless Love deserve the same fate, because those two bands have released better records in the last eighteen months than this.
Genre: Hard Rock, Heavy Metal
Band:
Danny Rexon- Vocals
Andy Zata- Guitar
Edd Liam- Guitar
Jens Sjoholm- Bass
Joel Cirera- Drums
Track Listing:
1. Hell Raising Women
2. Sound Of the Loud Minority
3. Outlaw
4. Girls Of the 80s'
5. I Missed the Mark
6. All Looks, No Hooks
7. Aint No Rest In Rock n' Roll
8. Call To Action
9. Heroes Are Forever
10. Psycho City
11. Wrecking Ball Crew
Record Label: Frontiers Records
Website: www.crazylixx.com
Hardrock Haven Rating: 6.5/10