Motörhead | Ace Of Spades
by Matt Karpe
– Senior Columnist —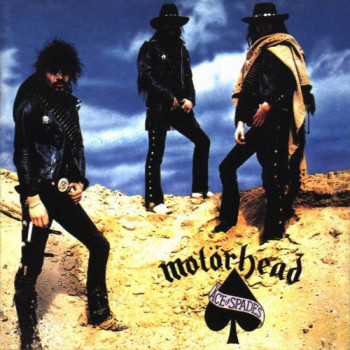 The word influential gets thrown around a lot these days, but when you listen to your favorite bands from the last couple of decades, you can't help but wonder, who influenced them- who gave them the motivation to pick up a microphone, guitar, bass or a pair of drum sticks?
There are many bands, whose passion and dedication to rock and heavy metal can never be questioned, and when these bands have stood the test of time and through blood, sweat and tears remain at the top of their game, then these are who you can truly say are influential.
One band that fits this criteria are Motörhead, and with their fourth album Ace Of Spades, they forced themselves firmly into the spotlight with twelve short sharp burst of Heavy Metal.
It was no nonsense, balls out R 'n' R with filthy punk rock energy, and in lead singer Lemmy, whose grizzly rasping vocals have become world renowned and instantly recognizable, this London trio became mainstays for many years to come.
With swaggering and at times sleazy guitar riffs, dominant bass lines and fast and booming drums, Motörhead demanded your attention from the off, and as soon as the sonic album title track kicks in, no matter if you have heard the song once or a thousand times, it still grips you with excitement and sheer amazement. To this day, "Ace Of Spades" is still a fresh sounding metal anthem and although not technical in its writing, it is one of the greatest songs ever written.
With the typical sex, drugs and Rock 'n' Roll lyrical themes, Motörhead didn't break any new ground, but it was the catchy melodies and powerful hooks that made the finished article such a powerful ground breaker.
"Shoot You In the Back" and "Love Me Like a Reptile" are a suitable soundtrack to a night on Jack Daniels and the quickfire "Bite the Bullet" goes down just as well as a shot of Jägermeister.
From the opening of "Ace Of Spades" to the closing moments of "The Hammer", this can be considered Motörhead's magnum opus, and it rightfully stands beside Number Of the Beast, British Steel and Paranoid as the true 'Best of British'.
Genre: Heavy Metal, NWOBHM, Hard Rock
Band:
Ian "Lemmy" Kilmister- Lead Vocals, Bass
"Fast" Eddie Clarke- Guitar
Phil "Philthy" Taylor- Drums
Track Listing:
1. Ace Of Spades
2. Love Me Like a Reptile
3. Shoot You In the Back
4. Live To Win
5. Fast and Loose
6. (We Are) The Road Crew
7. Fire, Fire
8. Jailbait
9. Dance
10. Bite the Bullet
11. The Chase Is Better Than the Catch
12. The Hammer
Record Label: Bronze (Worldwide), Mercury (North America)
Website: www.imotorhead.com