Diemonds | Never Wanna Die
by John Kindred
– Publisher —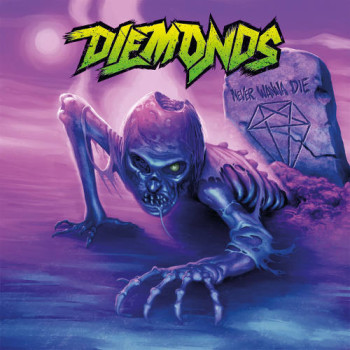 Third time and charmed Canadian rockers Diemonds return with their third album Never Wanna Die via Napalm Records.
Fronted by the sultry Priya Panda, this female-fronted band offers fans hard rockin', skull-crushing tunes that maintain a metallic edge and swagger. Backed by guitarists C.C. Diemond and Daniel Dekay, bassist Adam Zlotnik and drummer Aiden Tranquada, Diemonds, showcases their talent throughout the 10-song studio album.
Produced by Eric Ratz (Monster Truck, Billy Talent), Never Wanna Die sonically offers a polished sound but still has a hard edge that is driven by the twin axe attack of Diemond and Dekay. Panda's vocals push between Punk, "Ain't That Kind of Girl" – think Joan Jett – to Metal, while maintaining a melodic vibe.
Never Wanna Die is chalk full of lyrical angst, swimming in rebellion and pushing an attitude of energetic aggression just the way Rock 'n' Roll always has defined itself. Diemonds, having indoctrinated themselves in the ways of cultural rebellion, immerse listeners into their world of Rock 'n' Roll as they define it.
With its energy, melodic-catchy choruses, shredding guitar solos, pumping rhythmic pulse of the bass and drum and sweet-edgy-aggressive-punkish vocals, Never Wanna Die will appeal to Hard Rock and Metal fans. The album is on par with the best roller coaster, which starts off fast and doesn't let up until the ride is over.
Genre: Hard Rock, Heavy Metal
Band:
Priya Panda – vocals
C.C. Diemond & Daniel Dekay – guitars
Adam Zlotnik – bass
Aiden Tranquada – drums
Track Listing:
1. Never Wanna Die
2. Hell Is Full
3. Over It
4. Ain't That Kinda Girl
5. Secret
6. Better Off Dead
7. Forever Untamed
8. Wild At Heart
9. Meet Your Maker
10. Save Your Life
Label: Napalm Records
Web: http://www.facebook.com/Diemonds – http://www.diemonds.net/
Hardrock Haven rating: 9/10
"Over It" Official Lyric Video: