Kiko Loureiro | Sounds of Innocence
by Alissa Ordabai
– Senior Columnist —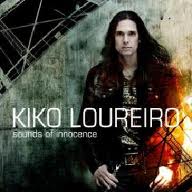 Apart from having to do with how the industry works, there is perhaps an additional reason why Kiko Loureiro likes to release his solo albums in the summer. Their sprawling, transparent melodies, dancing grooves, and easy-going vibe make these instrumental guitar gems perfect soundtracks for summer drives and walks, or simply for mellow afternoons spent outside doing little else apart from looking at the clear sky and watching the clouds.
More light-hearted than Loureiro's previous solo release Fullblast, the new album picks up where its predecessor left off. Latin grooves, non-obsessive thrash riffs, syncopated staccato beats, and floating, sweet melodies transport you into the instantly recognizable Loureiro universe – bright, playful but with just enough amount of reflection to stay memorable.
Loureiro's chops are – as always – impeccable, such as on standout "El Guajiro" where he mixes Brazilian rhythms with funk and metal, but less ostentatious than on the previous release. The luminous melodic sparklers which made Fullblast such an enthralling album are also giving way to more modest melodic ideas. Still, the through-composed tracks with their constantly developing themes make sure the album stays interesting despite of Loureiro's methods now being so familiar.
Accessible, but at the same time elegantly sophisticated, this is a fitting – albeit not a hugely intriguing – addition to the Angra guitarist's solo catalog.
Genre: Instrumental Guitar, Hard Rock
Track Listing:
1. Awakening Prelude
2. Gray Stone Gateway
3. Conflicted
4. Reflective
5. El Guajiro
6. Ray of Life
7. The Hymn
8. Mãe D'Água
9. Twisted Horizon
10. A Perfect Rhyme
Label: JVC / Victor Entertainment
Online: http://kikoloureiro.com.br/en/
Hardrock Haven rating: 7/10