LIVE! | G3: Joe Satriani, Steve Vai & Steve Morse
by Alissa Ordabai
– Senior Columnist —
July 20, 2012 at the Heineken Music Hall in Amsterdam, the Netherlands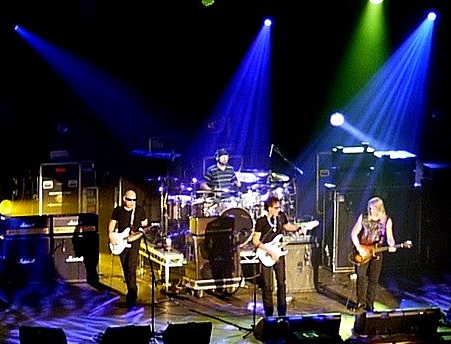 Opening the European leg of this year's G3 in Amsterdam, Joe Satriani, Steve Vai, and Steve Morse have managed to sell out the 5500 capacity Heineken Music Hall, Holland's best purpose-built popular music venue. Renowned for its exceptional acoustics, it did actually deliver an impressive sound, and Steve Morse mentioned during his set how pleased all three guitarists were with the perfect sound-check.
Morse's participation in G3 this year is not only adding a different flavour to this lofty guitar-fest-on-wheels, but highlights the diversity of styles on today's rock guitar scene. His continuing search for ways to mix rock, funk, and jazz made Satriani's transparent melodies stand out even starker tonight, and provided an interesting contrast to Vai's emotional depth and sonic flamboyance. And although the interaction between the three guitar personalities never took flight during the end-of-the-show jam, individually each player has delivered something uniquely personal this evening.
While Vai and Satriani chose to play their most accessible, best-known material, Morse sounded at his best when treading the experimental line between jazz and rock, as well as when working a funky groove in tandem with bassist Dave Larue. Interacting with the guitar on an equal footing, Larue – apart from providing dynamic, imaginative support – was bringing in an intelligent commentary to Morse's extrapolations, adding extra latitude to the set. Morse's technique range was beautifully showcased too – from delicately articulated harmonics to torrential chicken-picking, complementing the range of genres he tackled tonight – rock, jazz, and blues- and country-inspired material showing what an erudite, multi-faceted player he has always been.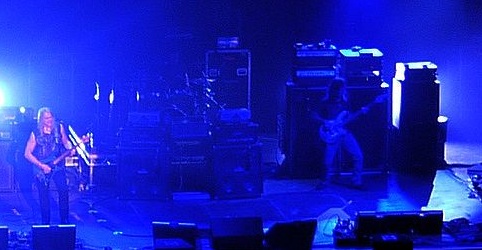 More cerebral than emotion-driven, Morse's set couldn't have been more different from Vai's. When Vai took the stage, it felt like an alien had just landed in front of the crowd. Supercharged and super-loud, Vai began throwing down barnburner chops from the word go with "The Audience is Listening." Grabbing attention and not letting go until the end of the set, he was like a house on fire, and all about that "fierce confidence" as he once described his on-stage feeling to this writer. "I feel like I own the world," he explained. "I am fiercely confident in what I do and I know that when I'm doing it I am demanding that people are being sucked in."
From stompers such as "The Audience is Listening" to meditative torch songs such as "For the Love of God" Vai's set was an uninterrupted, intuitive flow of feeling propelled by his phenomenal technique. A perfect retort to anyone who says that ostentatious chops in rock music are nothing but vacuous indulgencies, Vai's performance tonight was all about technique liberating a player to express exactly who he is, and being an indelible part of composition – from impeccable bends and vibrato on "The Animal", to two-hand tapping on "Building the Church," to the tremolo bar on "Whispering a Prayer" used for getting from one hypnotic note to the next.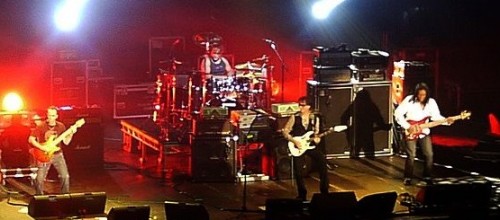 It's staggering how Vai finds emotional strength to improvise so imaginatively at every show he plays, but tonight he tapped into something exceptional, and improvised so generously, you knew this was special. Part of the reason could have been the location. During his banter with the crowd he confessed that Amsterdam was his favorite city, adding that Amsterdamers would be the first to hear his upcoming studio album The Story of Light on August 12 on their local radio.
When Satriani came on stage, he too called Amsterdam "the best place", but kick-started his set so differently from anything Vai's just played, the vibe in the room changed in seconds. The opener "Ice 9" had the crowd singing along right off the bat, wide awake from Vai's hypnosis and ready to be taken on a different kind of trip.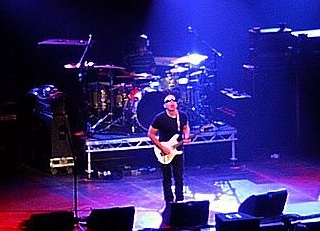 Satch didn't improvise as much as Vai did this evening, and the 9-song set of his best-known material rolled along the well-beaten, familiar track. Sounding simpler and more reserved than he does on the recently released – and quite exceptional – live record Satchurated Live in Montreal, he relied on those well-known riffs and melodies to work their magic without venturing too far off from the studio versions.
The 3-song jam at the end of the show went over the Kinks' "You Really Got Me," Cream's "White Room," and Neil Young's "Rockin' in a Free World." Far from being a real flight of inspiration, it became a tasteful – albeit slightly prosaic – closer to the show. But it proved is that being a world-class pro is about still being able to provide A-grade entertainment no matter how much inspiration you feel at a particular moment.